ADDACI HUNGARIAN VIZSLA & HUNGARIAN WIREHAIRED VIZSLA LITTERS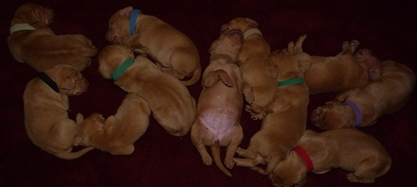 Our pups go to suitable, understanding, homes where the pups can get the attention and exercise any young Vizsla needs. Our pups have excellent pedigrees and all go to the most suitable working, showing and companion homes. Most of our own dogs are shown, worked or do agility - basically which ever activity they get the most enjoyment out of - each and every one has its own focus in something he or she excels at. Our own Vizslas have excellent hip scores and many are qualified for CRUFTS for life. If you would like to be considered as a potential puppy owner then please make contact to arrange to come and visit and meet us as soon as possible as we will need time to get to know anyone who might eventually have one of our puppies. Our planned litters are listed below. If you would like to be considered for one of our future puppies then please email us for a copy of our puppy questionnaire for you to complete and return to us, then we can make contact to arrange to visit us as soon as possible and we like to meet our prospective puppy owners well in advance of our puppies being born.
Mobile 07974 666240
addaci@btinternet.com
LITTERS 2022
​Litter One
Addaci Nut Brittle ex Gwifrenci Nepali Bandipur
Due 6th June 2022
Both parents are health tested including Eye & Heart Checked, Hip Scored, DNA Profiled and DNA tested CLEAR of Cerebella Ataxia and CLEAR of HUU.
The COI of this litter is a low 0.4%
If interested in a puppy from this litter then please email us at addaci@btinternet.com or telephone on 07974 666240
*******
If you are interested in being added to the waiting list then please contact us by email to request our Puppy Questionnaire. We are currently taking reservations for the above litters of future puppies - if you are interested in one of our puppies in 2022-2023 then you need to make contact to arrange a visit as soon as possible as our puppies are often booked by the time they are born and we only take a certain number of people on our waiting lists.
****PLEASE NOTE that if you have NOT visited us, returned your questionnaire, sent your references (if requested), and placed your deposit then you are NOT on our waiting list.
07974 666240
addaci@btinternet.com
************************************
All our Puppies are microchipped at 6 weeks. Puppies go to their new homes at 8 weeks of age complete with a puppy pack which includes their KC registration document, 5 weeks free KC insurance, 5 generation pedigree, lots of other information and feeding instructions and a supply of puppy food. All our puppies have endorsements on their pedigree as they can only be bred from with the breeders approval.
Lola
PLEASE NOTE:
We were founder members of the Kennel Club Accredited Breeders Scheme (now called Kennel Club Assured Breeders Scheme 2011) We have been fully inspected by The Kennel Club's Accredited/Assured Breeder Inspectors.
We need to meet all prospective puppy owners well in advance as we would not allow a puppy to go to anyone unless we have met them first. If you would like to be considered to join our waiting list or you would like further information then please contact us with some information about yourselves and we will make arrangements for you & your family to meet our guys.
We currently have puppies placed all over the UK and many across the world as far afield as New Zealand, Cayman Islands, Bermuda, USA, Canada, France, Norway, Malaysia, Hong Kong. Most people feel that distance is no object to finding the "right" puppy to join their family.
We normally have between two and four litters per year. This means we have a waiting list of people ready to take on one of our precious offspring. We never sell puppies over the telephone or via email, so don't even ask! Every prospective puppy owner is carefully vetted and considered for all of our puppies! We are very concerned for the welfare of the breed and we carefully consider and plan each and every litter well in advance. We will never compromise our very high standards and reputation. We evaluate the character and soundness of temperament of all the puppies we breed, and by carefully considering all the factors involved in breeding a litter, we can ensure you have a wonderful puppy, meeting the breed standard, with a lovely character and temperament.
Meggy & her Mystic pups - one of these 6 puppies went on to become a FULL CHAMPION of which at the time there had only ever been 30 in this breed - CH ADDACI MYSTIC OCEAN FOR VIZELLVEN (Alsziv Minilva At Addaci ex Addaci Mountain Mystic) who was the 2nd FULL CHAMPION to have been bred here at Addaci, the 1st being CH ADDACI MAGIC SPIRIT AT ALSZIV (Alsziv Minilva At Addaci ex SH CH Addaci Mountain Solace). HUGE CONGRATULATIONS go to their owner/handlers Spencer Digby of Alsziv Vizslas and Richard (Chilly) & Claire Chellumbrun of Vizellven who all worked so hard to achieve their full potential.

Cian with Mylo
07974 666240 addaci@btinternet.com